Charles Rollo Peters Biography
Born in San Francisco, CA on April 10, 1862 into a wealthy pioneer family. Peters studied locally at the School of Design under Virgil Williams and Chris Jorgensen and privately with Jules Tavernier. In 1886 he went to Paris where he was a student of Gérome and Cormon at Ecole des Beaux Arts and of Boulanger and Lefebvre at Académie Julian. While in Paris he exhibited at the Paris Salon and was greatly influenced by Alexander Harrison and James McNeil Whistler (who once remarked that Peters was the only artist other than himself who could paint nocturnes). Peters returned to his home in 1890, married the following year, and again spent four years studying in Europe. Upon his return to California, he settled in Monterey where he built a 30-acre estate called "Peters Gate." His home was a haven for other artists and he entertained lavishly until the money ran out. Following tragic losses of both his wife and small daughter, Peters remarried in 1909. The Monterey house was sold and the family went to Europe for two years. The remainder of Peters' life was spent in San Francisco with sporadic trips to Europe. He died in his native city on March 1, 1928. Eugen Neuhaus wrote, "He loved to paint the crumbling façades and tiled roofs of some moonlit Spanish adobe, and in developing the inherent textural and color qualities, he achieved a very unique and personal style. His color schemes are the rich analogues of the blue and purple of night with the complementary nuances of a small bit of orange light peeping through a half-shut window."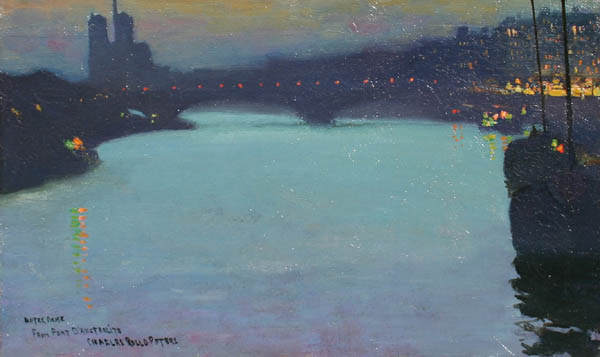 "Paris"
SOLD



Exh: Mechanics' Inst. (SF), 1885, 1890; Munich, 1888; Paris Salon, 1889; SFAA, 1891-1923; Union League Club (NYC), 1899; Pan Am Expo (Buffalo), 1901 (bronze medal); Lotus Club, 1904 (prize); Louisiana Purchase Expo (St Louis), 1904 (silver medal); Salmagundi Club, 1904 (medal); Cincinnati and Boston, 1904 (medals); Gould Gallery (LA), 1907; Del Monte Gallery, 1907-20; Alaska-Yukon Expo (Seattle), 1909; Steckel Gallery (LA), 1912, 1926; Bohemian Club, 1913, 1923; Golden Gate Park Museum, 1915; Stendahl Gallery (LA), 1926; CHS (San Marino), 1966; Colton Hall (Monterey), 1968 (solo); Oakland Museum, 1972. In: CHS; De Young Museum; Bohemian Club; Oakland Museum; Monterey Peninsula Museum.

Member: NY WC Club; American WC Society; Carmel AA; Bohemian Club; Société Internationale des Beaux Arts et des Lettres (Paris); Academy of Western Painters (LA); Allied AA; NAC.
Source: Edan Hughes Artists in California 1786 - 1940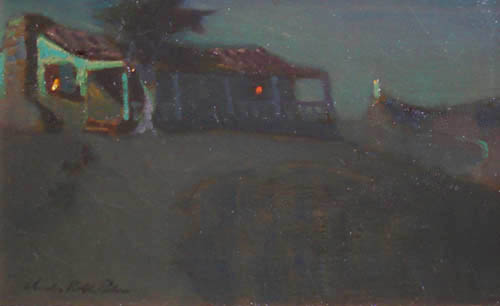 "Monterey Adobe"
SOLD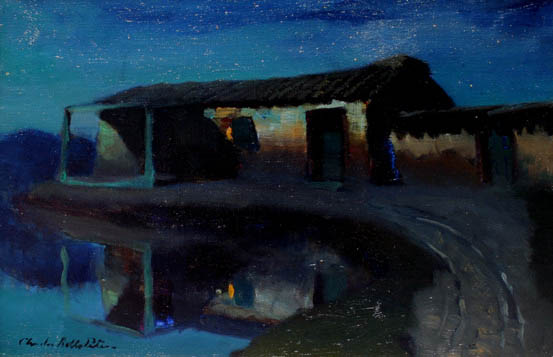 "Casa Sargenti"
SOLD


info@kargesfineart.com for further information